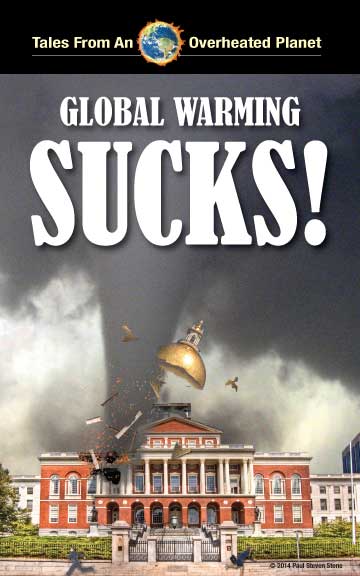 (See below for more posters)
The posters on this page were created by Paul Steven Stone and Bill Dahlgren to help sound the alarm about global warming in a way that would both engage the reader and make the issue indelible. Keep in mind, with a little more work and expense, these could be billboards or subway posters. As they are, they could be immediately used as digital advertisements or email campaigns or—and something especially powerful to consider—as baseball-type collectors cards for kids. We've created thirty posters in all, some of which relate to future realities, others to what is happening today. All of them use humor or irony to engage and hold the attention.
It's almost indecent that we've been as complacent as we have about Global Warming. This is our children's future at stake. It's also the greatest planetary challenge the human race has faced in our lifetime.  There is no more room at the conference table for Global Warming deniers; no more time left on the game clock for their obstructionism or their resistance to making the hard decisions. It's time we blew the whistle and threw them out of the game.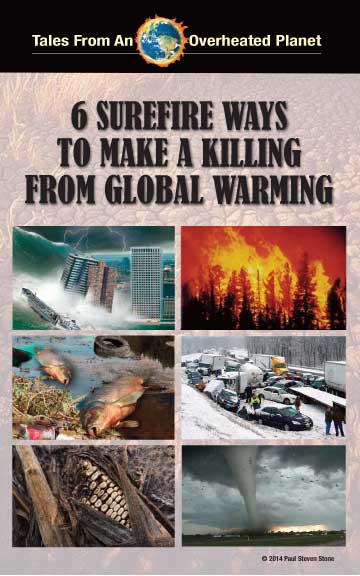 Forgive me for being immodest, but the posters on this page represent the beginnings of a Global Warming Awareness Campaign worthy of the size and scope of the colossal disaster we're facing. It is a campaign that uses shock, humor and a hard look at the future to shake the viewer out of his or her complacency. It is a campaign that reminds us we're all in this together, whether we're swimming in the streets of our hometowns, watching our crops wither to dust in a drought, fighting wildfires, or dodging twisters in our once tornado-free cities and towns. The campaign's message is solemn and its clear: nobody escapes the wrath and destruction of Global Warming.
If your group or organization would be interested in using/sponsoring these posters, or dovetailing them into your own campaign, please let me know. I can be reached at PaulStevenStone@gmail.com.
Do yourself a favor and review each poster BY ITSELF. Stop and absorb the entirety of one concept before you move onto the next. Do not quickly scroll through them. Most likely the posters will be viewed one at a time when they're out in the world, and should be seen that way here for their full effect.