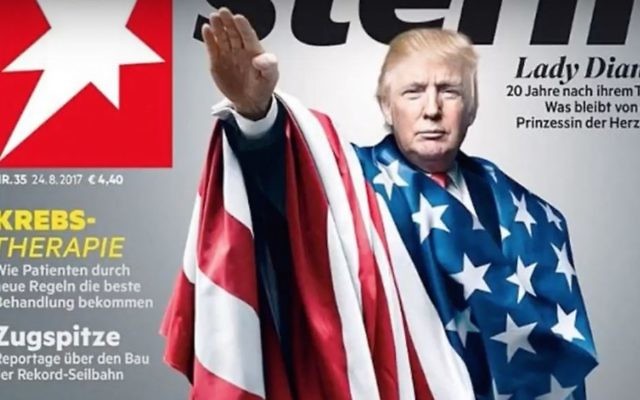 After months of listening to Republican enablers, sycophants and outright stooges of President Trump offer their abject fealty to their leader, I am now seriously worried about the fate and future of our country and its constitution.
Not since Adolph Hitler has a human being so flawed, selfish and self-aggrandizing been allowed to run roughshod over the country that elected him into power. The framers of our constitution saw exactly the rise of a politician like Trump and built into the spine of our laws the balance of powers and the mandate to impeach any president who abused his powers or degraded his office.
In attempting to extort Ukraine into conducting a bogus investigation of a political rival, and holding up critically needed military aid to force their obeisance to his wishes, Trump has abused his powers, degraded his office and trashed our constitution.
Today in the Senate we are witnessing the frightening power of one man popular enough—FEARED enough—to cast a gripping, paralyzing shadow over the independence and integrity of the political party that once ranked Abraham Lincoln and Theodore Roosevelt amongst its ranks. Gone are the statesmen and stateswomen of that party, replaced by those who would cling to power at any cost, no matter the damage to the country they will leave behind for their children and ours.
Gone, too, is any semblance of balance between the pillars of our government. Those pillars will be torn down the exact moment the Republican-controlled Senate votes to acquit the man who would accept no boundaries to his power, and no oversight of his actions. Once acquitted, he will proclaim his exoneration and immediately resume his unconstitutional efforts to bolster his power and enrich himself by amounts too staggering to contemplate. Which is really only a continuation of his behavior to date.
This is not the place to argue Trump's guilt or innocence. Like the thief who was caught with his hand in your pocket, he isn't worthy of defense. He isn't worthy of arguments that deny his intent or attempt to confuse the issue. He is guilty, and what's more every single one of his Republican defenders knows it. As do his attorneys and the fawning sycophants at Fox News.
We shouldn't be arguing about his guilt or innocence. We should be yanking his hand out of our pocket!
Alexander Hamilton wisely predicted the advent of a self-aggrandizing president with these words, recalled by Adam Schiff today in his Senate oratory: "When a man unprincipled in private life desperate in his fortune, bold in his temper, possessed of considerable talents, having the advantage of military habits—despotic in his ordinary demeanor—known to have scoffed in private at the principles of liberty—when such a man is seen to mount the hobby horse of popularity—to join in the cry of danger to liberty—to take every opportunity of embarrassing the General Government & bringing it under suspicion—to flatter and fall in with all the non sense of the zealots of the day—it may justly be suspected that his object is to throw things into confusion that he may 'ride the storm and direct the whirlwind.'"
And now, owing to the weakness and cowardice of Trump's Republican enablers, we are about to see the rise of a United States President truly unbounded by honesty, compassion, respect for his office or concerns about the welfare of those he governs. A president who, like Adolph Hitler, will unerringly follow his worst instincts.
Heaven help us all!