April 27, 2007
To: John J. O'Brien, Commissioner
From: William H. Burke III, Deputy Commissioner
Re: Scouting "Talent" at Joe's Bar
Dear JJ:
I'm writing this, admittedly in high spirits, after meeting at Joe's Bar with two great prospects for Chief Probation Officer: Christopher Hoffman and Frank M. Glenowicz, both highly trained mixology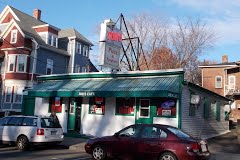 specialists as well as all-around good guys.
I've known Frank and Chris for many years, both congenial bartenders and trusted employees at Joe's Pizza in Northampton, where I more than occasionally drop in to conduct Patronage Department business with politically-connected types from the Central and Western regions of the Commonwealth.
You might ask why we would willingly give up two juicy plum positions that might be reserved for a state senator or a judge, and I would answer that these guys are absolutely fabulous at listening to hard luck stories and offering sage advice. They've been doing it for years across the dark oak of Joe's bar, and I would expect them to easily translate their bartender's insights and home-grown wisdom into valuable tools for a Chief Probation Officer. Haven't we often wished that our CPO's could listen to thugs, felons and thieves like a bartender without judging like a priest? Well, Frank and Chris are just the guys to take in the darkest of our clients' stories without once copping an attitude.
I assure you these men will bring honor and tireless energy to our department, and credit to both of us at Patronage Department parties where they'll be happy to mix up any drink you can find in the Bartender's Bible.
Also, in keeping with Patronage Department policy, both men have serious political connections.
Sincerely,
Bill
William H. Burke III
Deputy Commissioner and ACDJ (Assistant Chief Dispenser of Jobs)
Massachusetts Patronage Department
Update:
Christopher Hoffman, former Acting Chief Probation Officer, Hampshire Superior Court (salary $58,041) was the first conviction in the federal corruption probe of the Mass Probation Department, receiving a sentence of 2 years probation for intimidating a witness. When last heard from, he was working as a manager on a potato farm.
Frank M. Glenowicz, Acting Chief Probation Officer, Franklin Superior Court (salary $92,038) testified under a grant of immunity that his father grew up in the same town as Burke and worked on a farm with Burke's brother. He was handed his probation officer's badge by Burke one evening in Joe's Bar.
 Author's quote: You can't make this stuff up! 
To see "Dear Whitey," FromThe Secret Files Of the Mass Patronage Department, Part 1, click here.