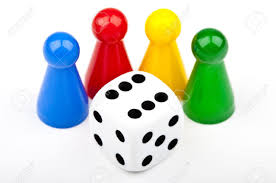 Here it is, boys and girls. And just in time for the holidays. "OBFUSCATION!!" The game that takes the art of conversation and turns it into a political cat-and-mouse game.
Whether you play the INQUISITOR or the REPUBLICAN, "OBFUSCATION!" will forever challenge your notion of what it means to tell the truth. Especially when you belong to a political party tasked with selling your collective souls to defend Donald Trump against an impeachment he fully deserves.
INQUISITOR: Okay, to start: At which hotel did Rudy Giuliani and his two Soviet henchmen stay when visiting Kiev?
REPUBLICAN: The Hotel Perfidy, where Joe Biden and his son Hunter always stay…when hiding out in Kiev.
INQUISITOR: How can Donald Trump deny there was a quid pro quo when his own transcript has him shaking down Zelensky on the phone call?
REPUBLICAN: There is no quid pro quo on the phone call. Your eyes, ears, or maybe your political inclinations, betray you. The bribe, if you want to call it that, was never consummated. Zelensky never actually announced the investigations. No quid pro quo when you ain't got the quo, bro.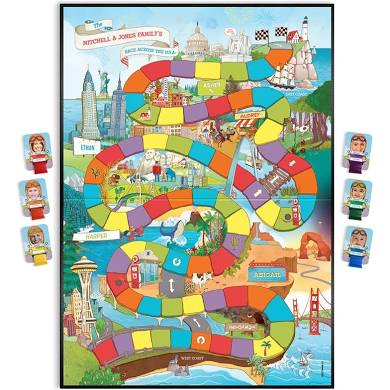 INQUISITOR: We've just gone through two weeks of witnesses testifying about Trump and Giuliani's shadow foreign policy. Do we know yet why that Ukrainian oligarch paid Rudy $500,000?
REPUBLICAN: I believe that was a one-time payment for Rudy helping the oligarch reset his iPhone.
INQUISITOR: Are you aware that Donald Trump claimed no prior acquaintance with either Lev Parnas or Igor Fruman, Mr. Giuliani's arrested associates, even though both appear in numerous photographs with Mr. Trump?
Such as this one at the circumcision, or briss, of Mr. Parnas' first-born son?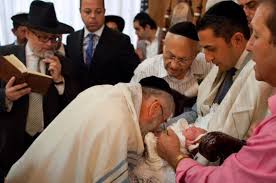 REPUBLICAN: And who is that next to the president in the photo?
INQUISITOR: That's the blade man himself, the circumciser, who within the tribe is called a moyel.
REPUBLICAN: No matter; the president takes pictures with thousands of people. Many of whom he does not know. That could be from any of a hundred brisses the president attends in a month.
INQUISITOR: Okee-dokee, have it your way. For the rest of us… It's time to play, DOUBLE OBFUSCATION! That's the speed dial version of our game in which the Republican gets lightning-fast questions and no time to think about his response, which must be in the form of a question. Are you ready?
REPUBLICAN: Was that your first question?
INQUISITOR: Ohh, very good. You're a genuine smart ass, aintcha? And my real first question is: Gordan Sondland?
REPUBLICAN: Which totally inexperienced millionaire diplomat was appointed Ambassador to the European Union, with immediate membership in the legendary Three Amigos of many fanciful Ukraine adventures?
INQUISITOR: Second question: The amount of military aid Trump withheld from Ukraine?
REPUBLICAN: Aha! Trick question! Ukraine ultimately received its military aid, therefore my answer must be…Which country's totally withheld military aid equals Zero?
INQUISITOR: If a poll came out showing a majority of Americans favor impeaching and removing the president, what would you say?
REPUBLICAN: Fake news?
INQUISITOR: And if I tell you the president definitely committed an impeachable offense, what would you say?
REPUBLICAN: Impeachable offence? For what? For threatening to withhold critical military supplies to a country at war with Russia? For putting an entire country—and the national security of the United States of America—at risk? For his own personal gain? What's impeachable about that?
INQUISITOR: And if you saw the president shooting someone on Fifth Avenue, what would you say?
REPUBLICAN: It was an accident. I mean, how could he know the gun was loaded?