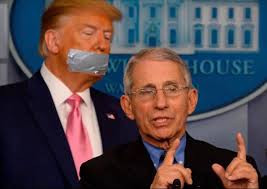 My funny quarantine,
Sweet lonely quarantine,
Making me smile with each swipe
Of your alcohol-drenched wipe,
Your actions winning my heart
As we both do our part,
You, my neurotic shut-in,
Me, your store-running champion.
How quickly to the store I can dart,
Face masked in Snoopy pajama art
Hands covered in prostate-probing gloves,
Braving germs, crowds and biblical floods
Your eyes frozen on the TV
Captive to the scary shit on MSNBC
But don't change the channel for me
Fox News frankly scares me
As they rewrite the news,
But never for me.
Oh, how my heart starts to sway
With you a full six feet away,
Who cares what Trump has to say
After our chance to beat the virus
Was frittered away?
Stay, Dr. Fauci, please stay!
And please make the world go away.
Each day is quarantine day,
Each day is quarantine day.

My apologies to anyone who might be offended about my taking a humorous look at a situation that is anything but funny. We are all obviously in the same boat, and my mental survival strategy requires me to look for the irony and humor in even the worst of calamities. Again, my apologies!