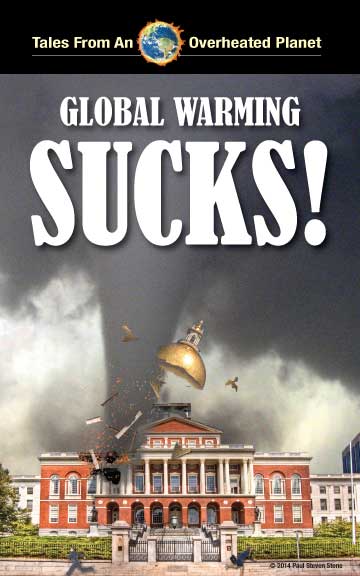 The posters on this page were created by Paul Steven Stone and Bill Dahlgren to help sound the alarm about global warming in a way that would both engage the reader and make the issue indelible. Keep in mind, these could be billboards, advertisements or—something especially powerful to consider—baseball-type collectors cards for kids. We've created a dozen of these posters to date, some of which relate to future realities, others to what is happening today. All of them use humor or irony to engage and hold the attention.
Finally there is a Global Warming awareness campaign worthy of the size and scope of the colossal disaster we're facing. It is a campaign that uses shock, humor and a hard look at the future to shake the viewer out of his or her complacency. If your group or organization would be interested in using/sponsoring these posters, or dovetailing them into your own campaign, please let me know. I can be reached at PaulStevenStone@gmail.com.
Do yourself a favor and review each poster BY ITSELF. Stop and take in the entirety of one concept before you move onto the next. Do not scroll through them. Most likely the posters will be viewed one at a time when they're out in the world, and should be seen that way here for their full effect.