This is truly grass roots. And yet wholly epic in the great American tradition. Two advertising veterans creating an online campaign for Bernie Sanders' seemingly quixotic reach for the presidency. Grass roots yes, but hopefully not half as amateurish or moronic as the email blasts I've been seeing from all sorts of political campaigns lately. It's been an amazing journey, creating these ads, one in which I've honestly felt like I've been channeling the candidate's vision and perspective. Or else he's been in my head over the years and I didn't know it. You choose…!
Ad #1: Developed primarily to begin inoculating Bernie against attacks for being a Socialist.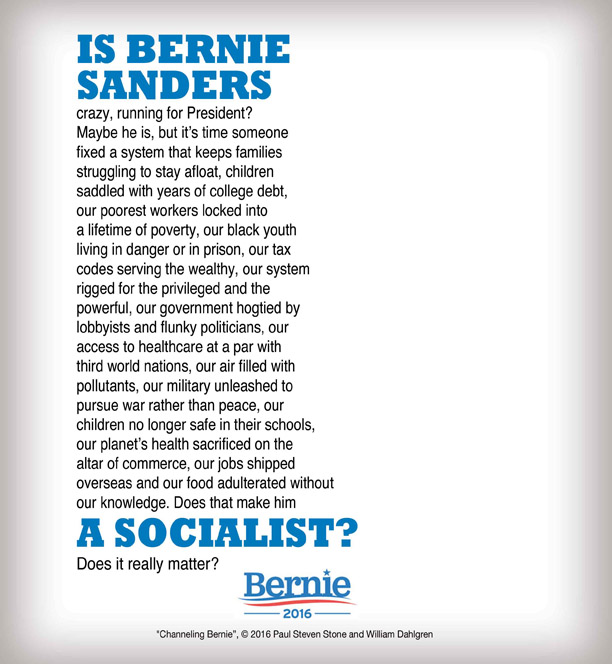 Originally, I thought I would just work out a campaign concept that Bernie might use in his email outreach, one that offered a little more punch than the run of the mill stuff he'd been sending out; a concept that had more intelligence and sex appeal, but was still relevant to Bernie, his campaign and his audience. Of course once I got started, the ads had a life of their own. Some going off to catalogue the wrongs Bernie would set right, others offering specific stances on specific issues, while still others went after some of the pols in the race. Here again, all of it channeling Bernie's positions to the best of my understanding and ability.
And so, with art direction by Bill Dahlgren, concept and copy by Paul Steven Stone, I offer for your inspection, enjoyment and further distribution the ads that make up the Primary Phase of our "Channeling Bernie" advertising campaign.
PLEASE FEEL FREE TO SHARE ANY OR ALL OF THE FOLLOWING ADS. IT WOULD BE ESPECIALLY HELPFUL IF YOU COULD POST THESE ON YOUR SOCIAL MEDIA. THANK YOU!
Ad #2: On The Issue of Gun Control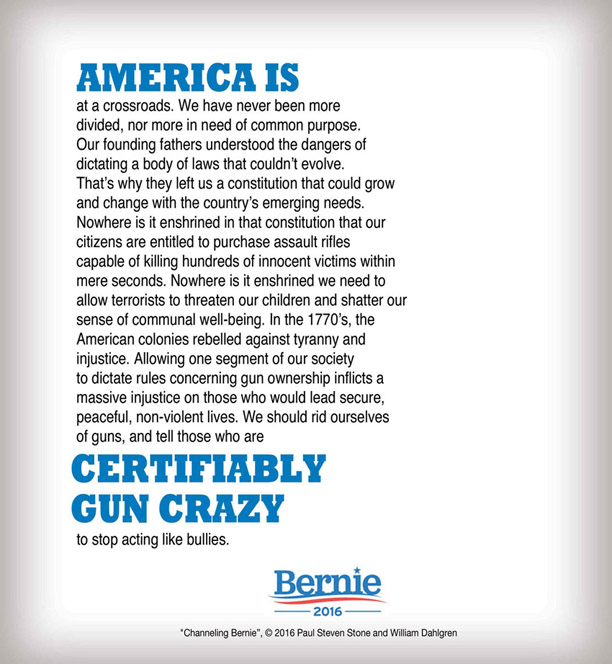 #3: Intended to begin inoculating Bernie from attacks for being a Jew from Brooklyn. Also focused on combatting the electability issue head on.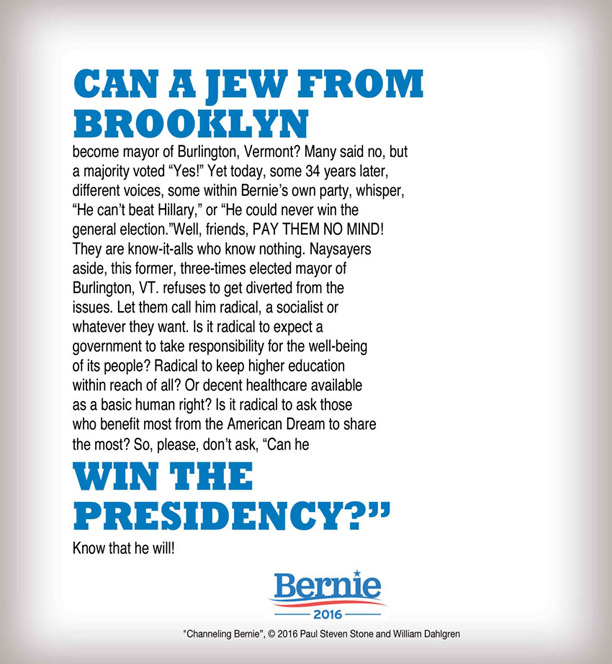 Ad #4: Donald Trump tribute.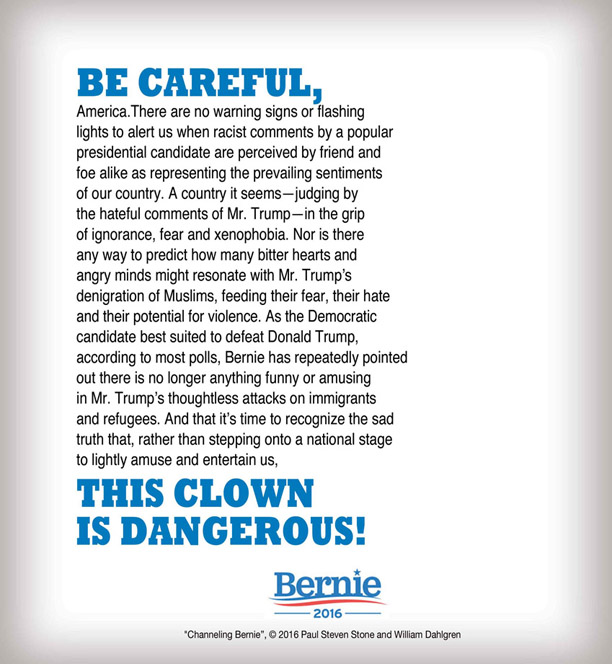 Ad #5: A Love Song for Hillary.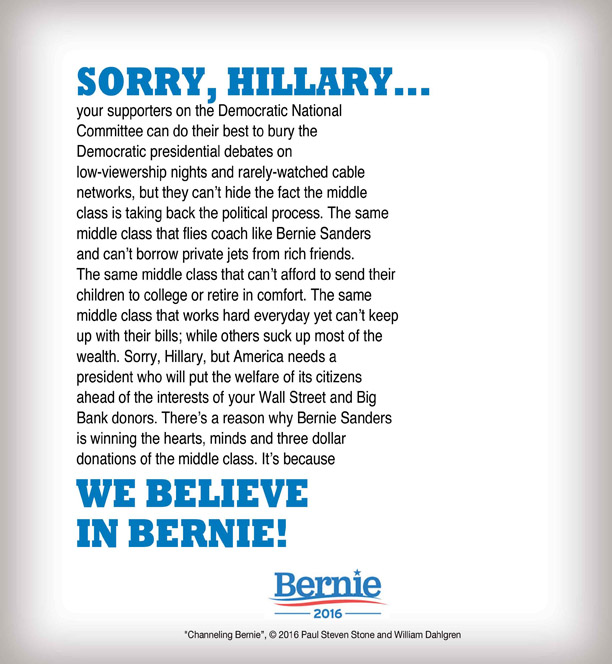 Ad #6: Playing with an obvious and natural branding theme for Bernie.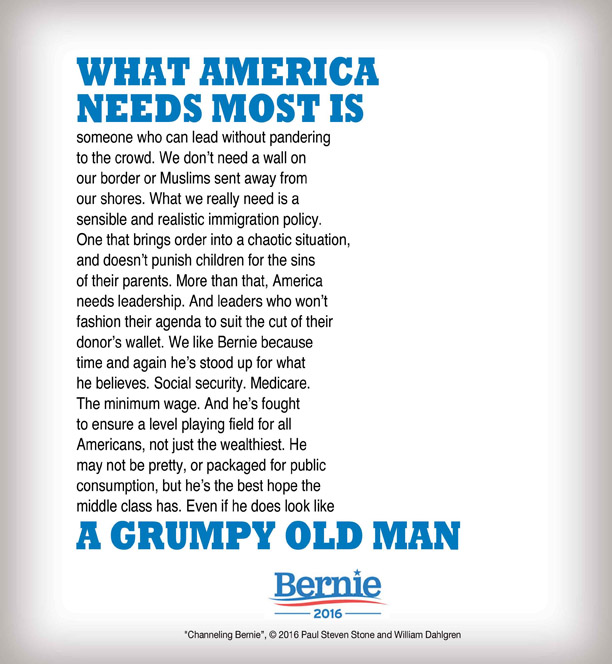 Ad #7: My idea of how the campaign might ask for money. With a little more humor and panache. "Contribute" button would hyper-link to donor page.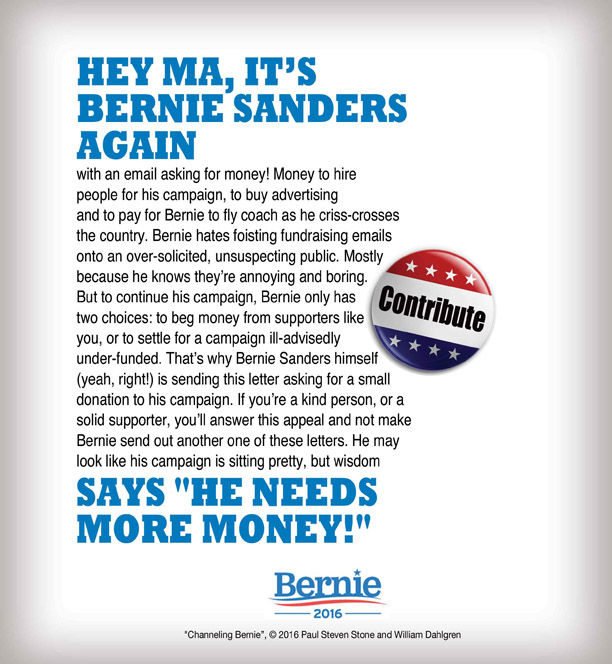 Ad #8: Slight rant about those F@%king guys who gave the American economy a wedgie of giant proportions. Most readers, I believe, got the Wizard of Oz connection to "Liars, Tigers and Bare Greed! Oh my!"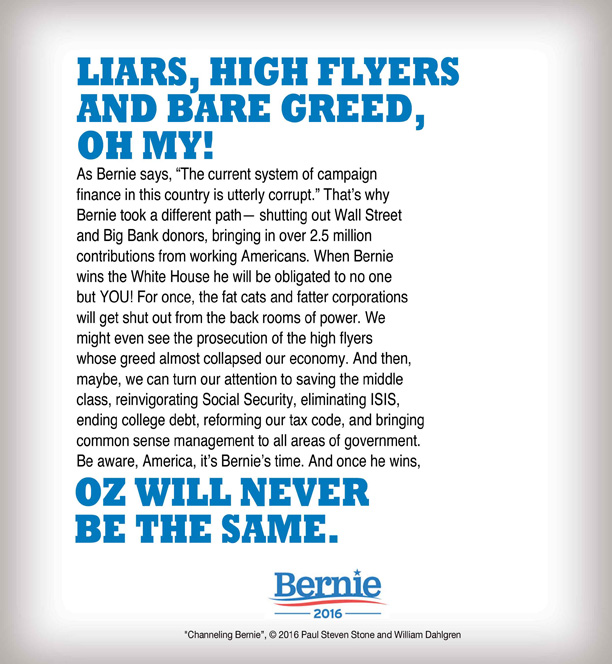 Ad #9: My second Donald Trump tribute. Also, bringing back the Grumpy Old Man.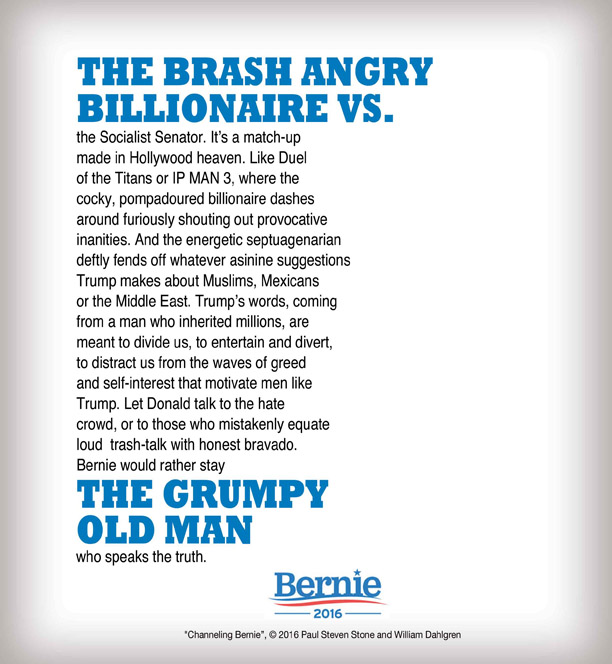 Ad #10: We are millions!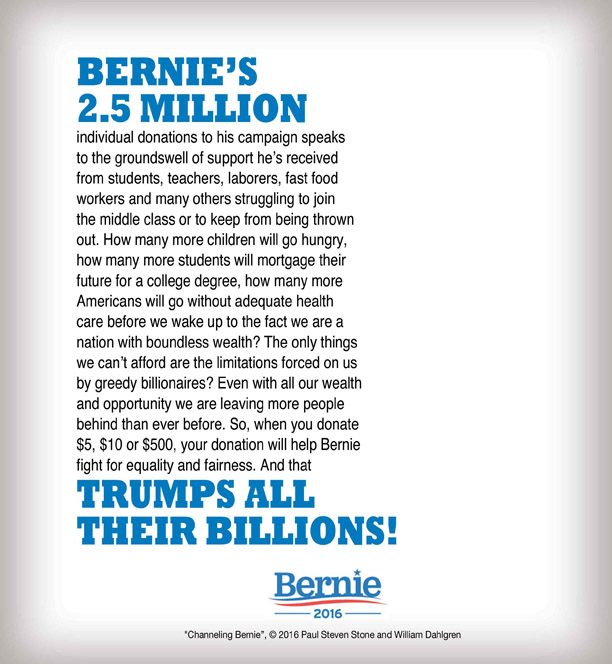 Ad #11: Moveon.org's endorsement was a big deal, man. Real big!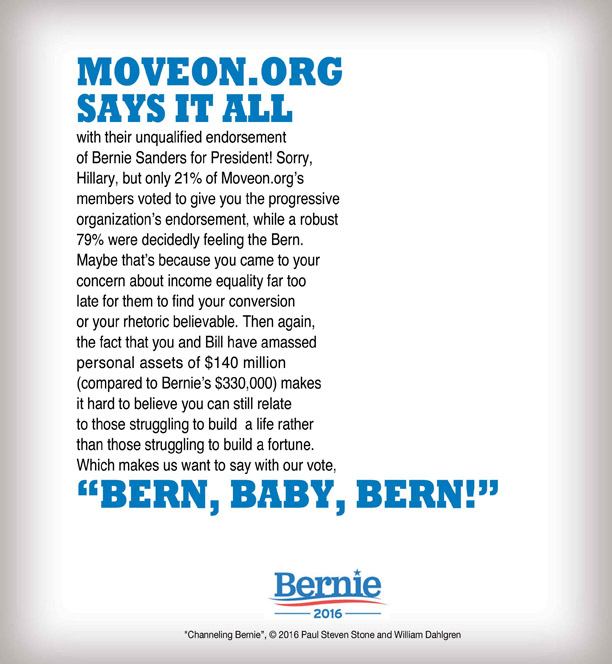 Ad #12: I always loved the book title, "What Makes Sammy Run?" A great book by Budd Schulberg. Borrowing from Mr. Schulberg seemed to suit my purpose here.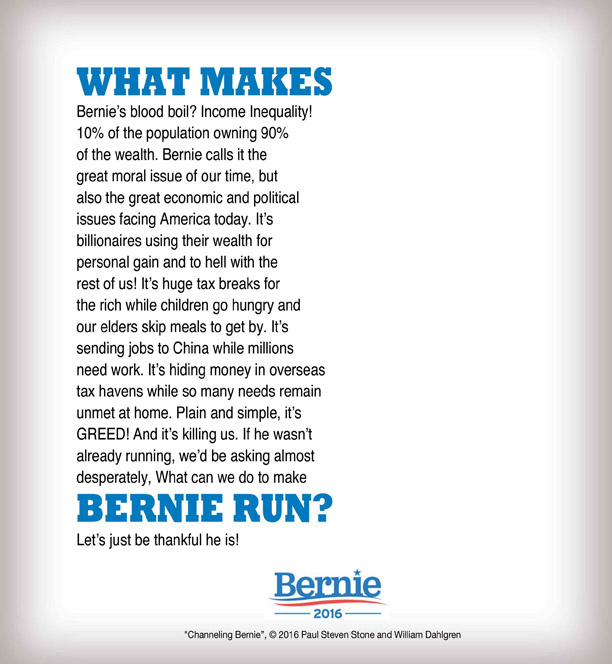 Ad #13: Lucky 13 concerns those screw-up Republicans in all their Bush-whacking glory!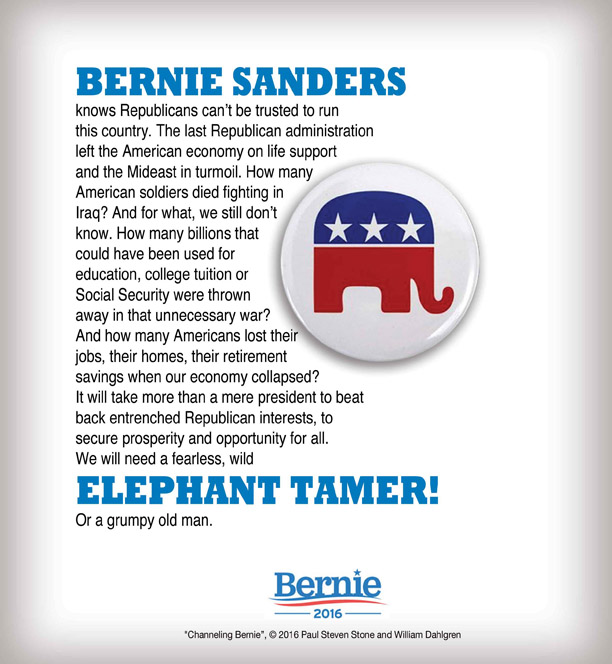 Ad #14: Are we hot or what!!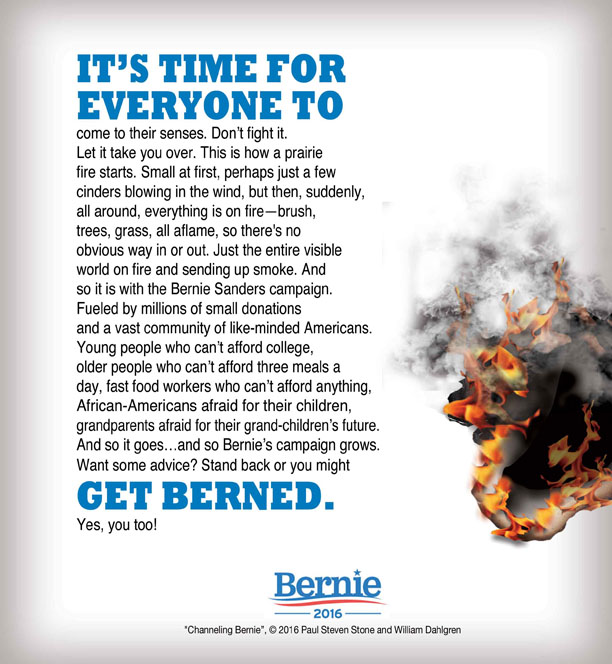 Ad #15: Bernie's version of pro-life.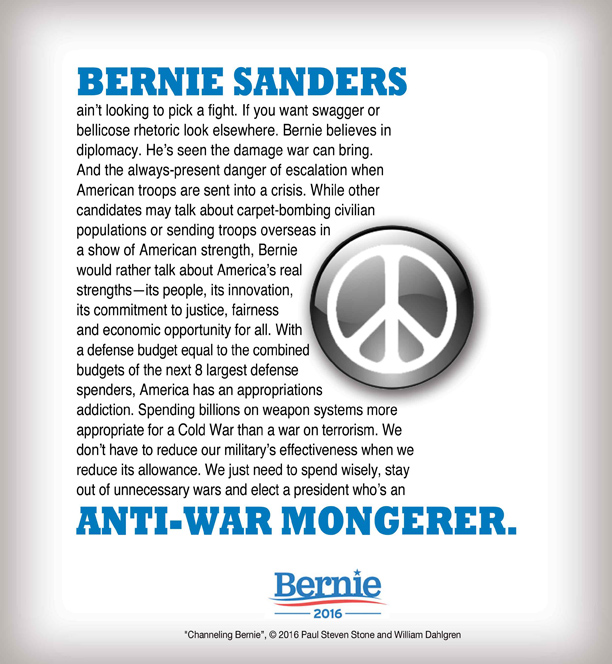 Ad #16: After seeing Bernie's TV ad, "America" another Paul Simon song came to mind.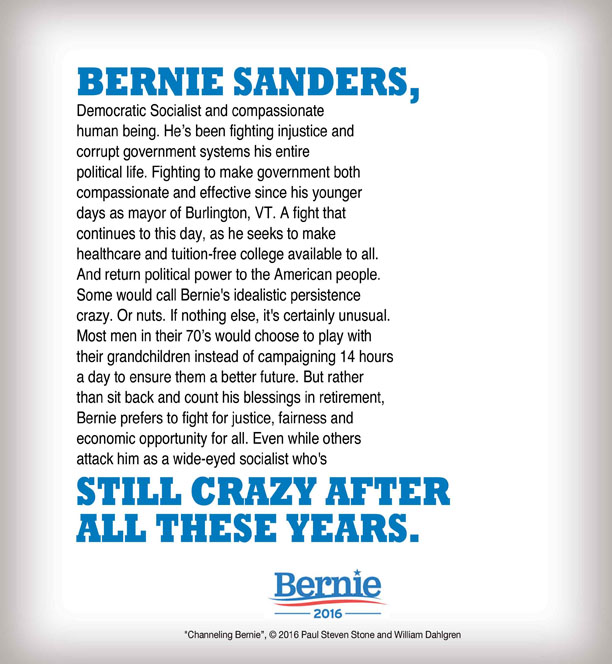 Ad #17: It's the establishment's turn to panic as they realize, "Oh my God, this guy's for real!"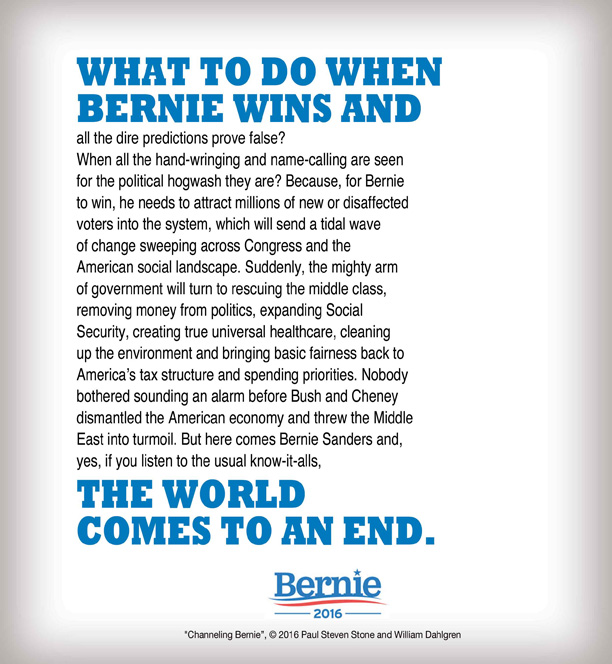 Ad #18: Wherein I speak directly to the Middle Class.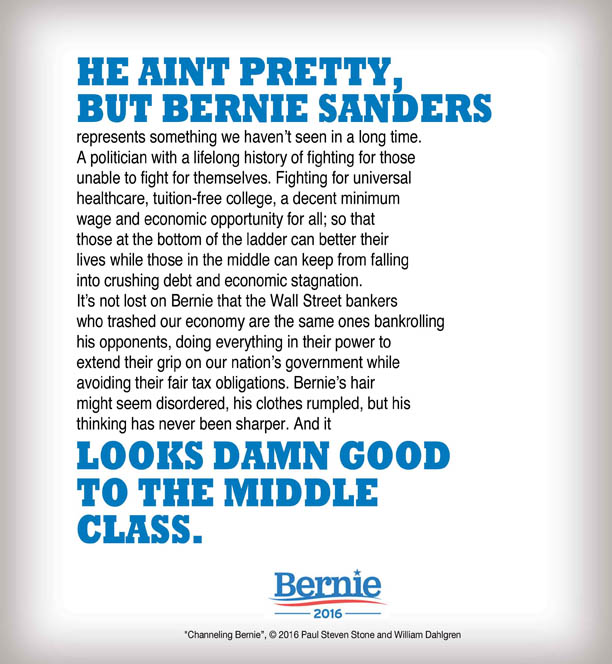 Ad #19: For those who would prefer their politics seasoned with less money and more public involvement.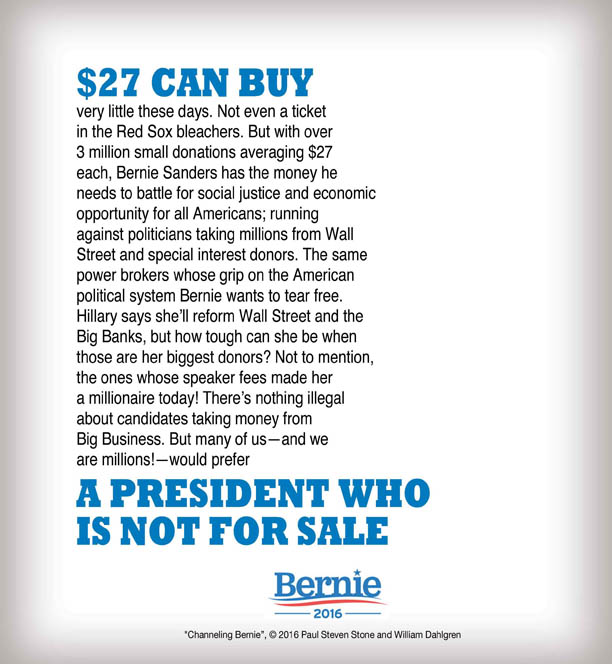 Ad #20: And so we begin to break tHillary Clinton's stranglehold on the Black Vote.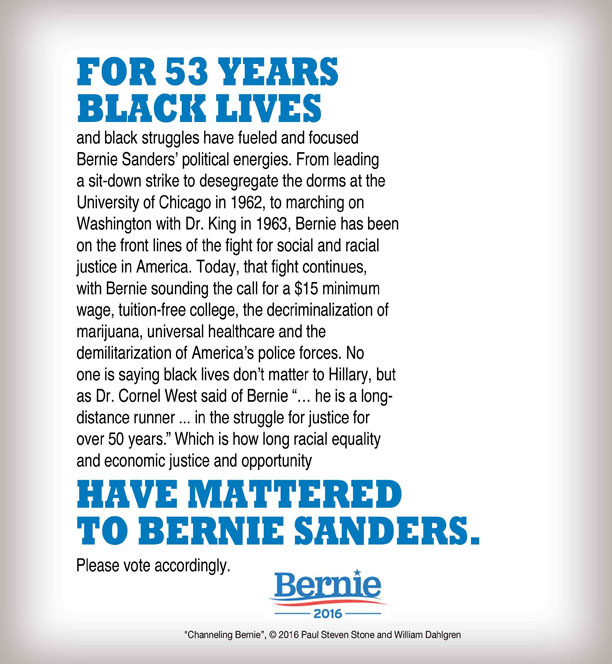 Ad #21: About those Goldman Sachs campaign donations…?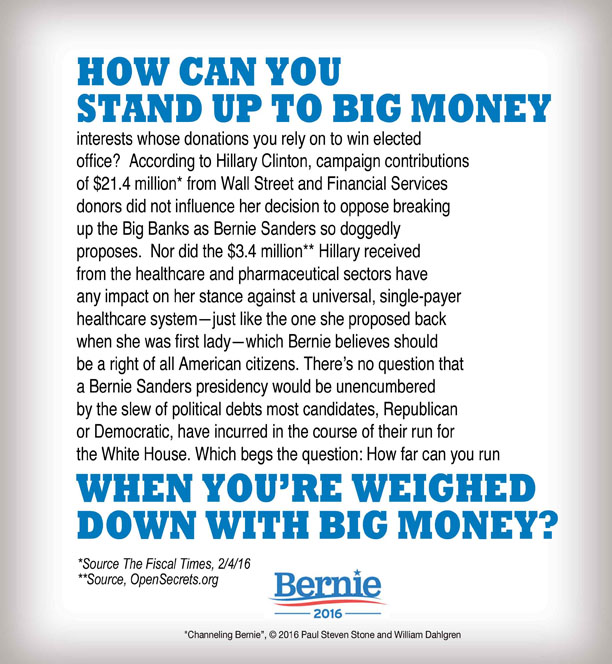 Ad #22:  Have you started to wonder about things, to ask yourself why America seems so poor. And where did all the money go?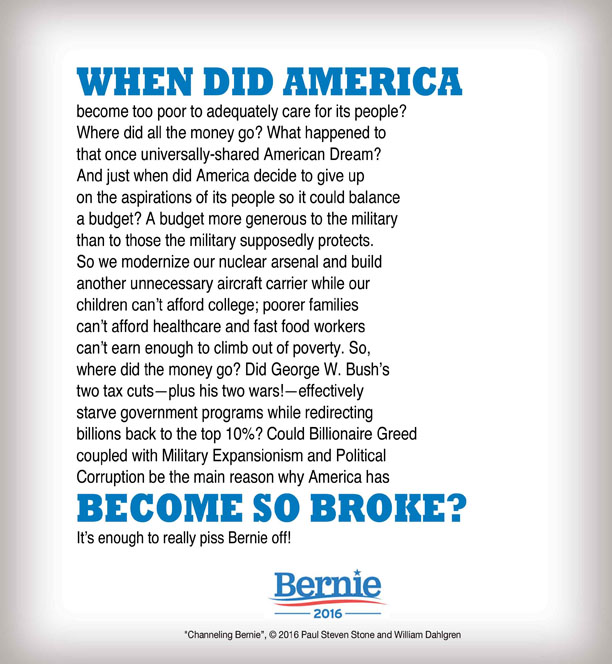 Ad #23: The man is a mensch! He sees, he cares, he acts.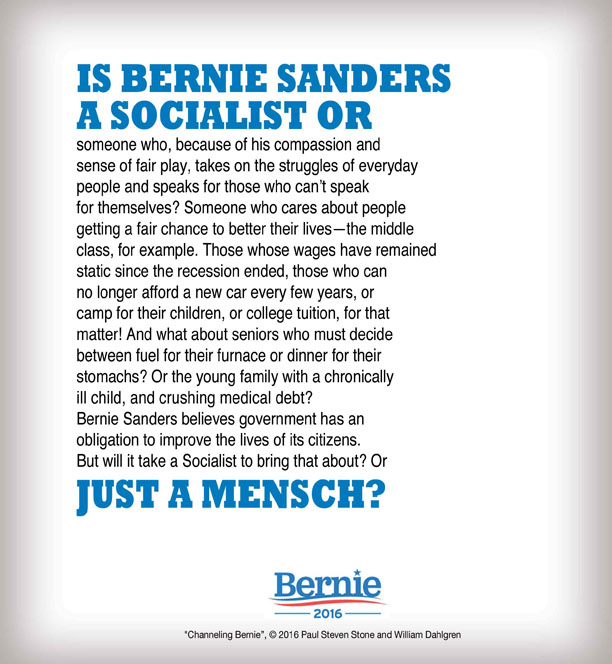 Ad #24: Anybody notice Hillary's shift to the left during the campaign, as Bernie gets stronger?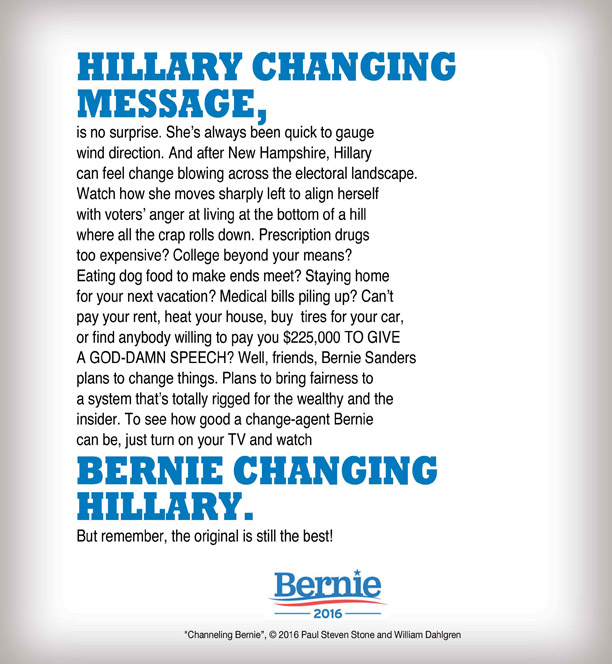 Ad #25: Doesn't cost much to clean up government, just an average of $27!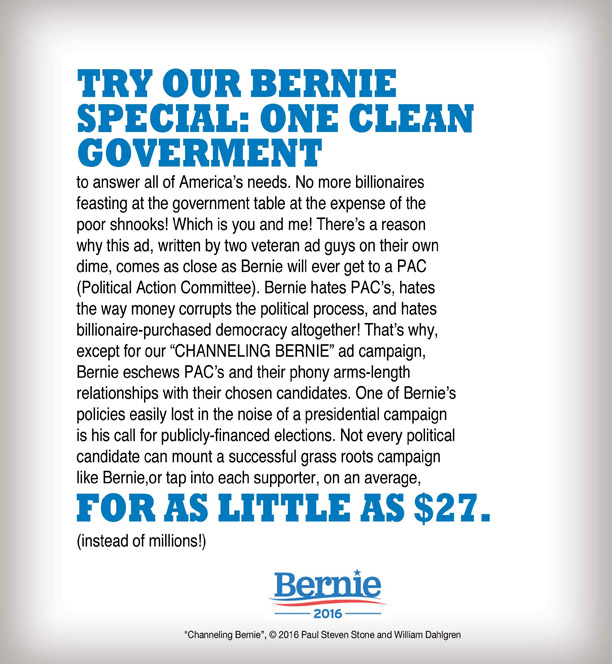 Ad #26: The Road to the White House is festooned with obstacles, challenges and, yes, bandits.